Row by Row Experience
How about this… it's like a shop hop, but it's not... no fees, no cards to stamp, and all summer to play! Simply visit any of the participating shops and receive a free pattern for a row in a quilt. Combine your rows in any way to create a unique quilt that represents the fun you had traveling throughout the summer. Travel with friends, discover new quilt shops and have fun collecting rows!
The Row by Row Experience began in 2011 with 20 quilt shops across New York State. In 2012 the event grew to include 62 participating shops. Pennsylvania came on board in 2013 for a total of 138 shops throughout the two states.
In 2014 over 1250 quilt shops participated in 34 states and Ontario, Canada. Now in 2018, shops across the US, Canada and Europe are participating in the Row by Row Experience.
Although the quilt shops are organized by area, quilters have no borders.
TRAVEL, SHOP, COLLECT PATTERNS
and add rows to your quilt from anywhere!



Row by Row BEGINS ON June 21, 2018
The Row by Row theme for 2018 is "Sew Musical". Our Beatles inspired Yellow Submarine Row by Row pattern ready for this summer's quilters. The pattern was created and designed by Wendy Shear. This is a machine applique pattern that has already been reversed for fusible applique. You will need to add seam allowance if you choose to hand applique. We hope you have fun with our Row!!
2015 QUILTY PLEASURESROW BY ROW PATTERN
Have an adventure under the sea with our 2015 row by row "Seahorse Ballet"
Only a few patterns still available in store and our online Etsy store.
Once they are gone ... they are gone.
2015 QUILTY PLEASURES SEAHORSE BALLET PATTERN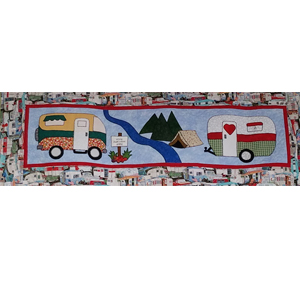 2016 QUILTY PLEASUREROW BY ROW
Theme for 2016 "Home Sweet Home."
Quilty Pleasures is one of the participating California quilt stores in the Row by Row Experience.
Available in store now, or on our Etsy online store starting Nov. 2016. Dimensions: 34" x 9"
Contact us to get your kit today!
2016 QUILTY PLEASURES ROW BY ROW KIT
2018 QUILTY PLEASURESROW BY ROW LICENSE PLATE
Fabric plates are unique novelty printed panels that can be added to make any project, tote, or quilt more fun! The only limit is your imagination! These panels are made of 100% organic sateen cotton. They are washable in gentle cycles with non phosphate detergents. COLLECT THEM ALL! Participating quilt shops will be carrying their own unique 2018 Row by Row Fabric Plates with their own unique vanity saying, shop name and home city.
The Quilty Pleasures' saying for 2018 is "Sew Inspired."
Currently available in store or on our Etsy online store.
2018 QUILTY PLEASURES LICENSE PLATE